Cody Linderholm
Deputy District Attorney, Multnomah County, District Attorney's Office, Oregon
The popular 80's & 90's educational computer game series, The Oregon Trail, oftentimes has GenXers and Millennials waxing nostalgic about their primary school days and the fate of their virtual ancestors dying from dysentery. While the days of covered wagons and trail diseases are now a century-old memory in American history, there is a new chapter of despair spanning across all 50 states and acting as a modern-day trail disease—opioids in the form of a little blue pill stamped with an "M."
The interplay of intellectual property and drug crimes is complex. On the one hand, IP laws generally concern product and consumer protection. On the other hand, drug laws generally concern the manufacture, distribution, and possession of illicit drugs. While practicing law in a state jurisdiction has its challenges, there is a way to blend the cross-section of IP and drug crimes and get them onto a single charging instrument for successful prosecution.
Start of the Trail
In Oregon, case law, decriminalization of user amounts of illicit drugs, and legislative holes in the laws, specifically concerning fentanyl, have left prosecutors with an inability to effectively address the growing concerns caused by illegally manufactured, distributed, purchased, and/or possessed opioids. For example, a person could have under 50 blue M30 pills weighing just under 5 grams and receive a class E violation, which only carries a $100 fine. Compare that to hitchhiking, which is a class D violation, for which the maximum fine is $250. Put another way, a person could possess enough fentanyl to kill multiple people and receive less of a fine than someone merely hitching a ride.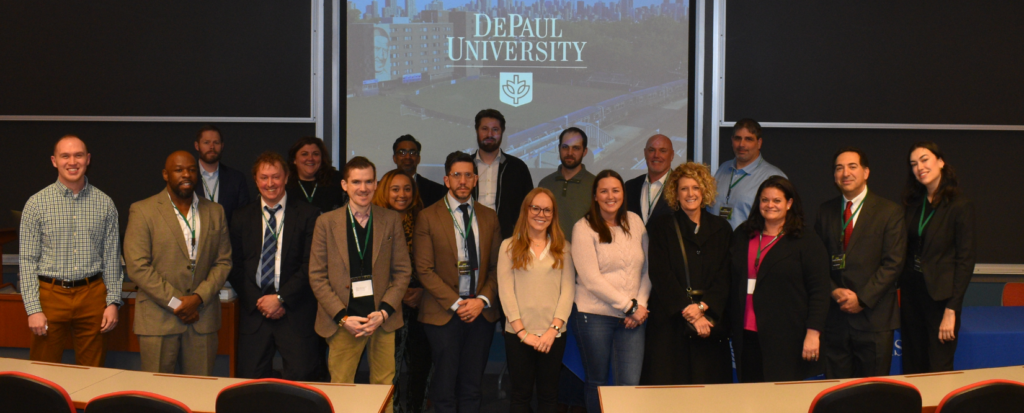 In December 2022, I was able to attend a state-level IP training for prosecutors hosted by A-CAPP at DePaul University. In preparation for attending the conference, I started researching the Oregon laws concerning IP and other related statutes. That led to the discovery of several Oregon statutes criminalizing trademark counterfeiting. For trademark counterfeiting in Oregon, the mens rea is knowledge, and a mark or service has to be registered under the Lanham Act. Proving that a defendant did not have permission to use the trademark might be the most difficult part, but most jury instructions include that jurors may make "reasonable inferences."
Curiosity got the best of me, and I started to brainstorm how I could apply this in my daily workflow. None of my cases involved knock-off goods or services—not even Nike brand apparel, though the company's world headquarters are just a county away from my jurisdiction. The only time I recalled seeing the word "counterfeit" in relation to my duties as a DDA was in police reports when law enforcement referred to Blue M30s as counterfeit oxycodone pills. That caused me to wonder if the M on the counterfeit pills that have been flooding the streets of Portland was trademarked. A quick visit to the USPTO website led me to the LIVE registration for the mark "M" for use on pharmaceuticals belonging to Mallinkrodt.
Not long after this discovery, I reviewed a drug case that had all of the elements necessary to indict a trademark counterfeiting felony. For the first time in over a decade, my work resulted in a trademark counterfeiting felony indictment in Oregon's biggest judicial district, State of Oregon v. Ricardo Nieto-Vargas, where the defendant was dealing blue M30 pills and was arrested with over 200 pills in his possession. He was indicted on three counts:
Unlawful Possession of a Controlled Substance – Schedule II (Fentanyl) (Substantial Quantities);
Delivery of a Controlled Substances – Schedule II (Fentanyl);
Trademark Counterfeiting in the Second Degree.
Trails Converge
But why does the blending of property and drug crimes matter? Like many other states, Oregon has laws to regulate illicit drugs. However, those laws, combined with the recent passage of a ballot measure that legalized simple possession (Oregon Measure-110, 2020), have led to prosecutors being faced with more stringent state laws and higher legal requirements. The trademark counterfeiting felonies and misdemeanors add weight to indictments that drug charges lack—a crime of dishonesty if convicted, potential for a class B felony conviction that could carry a sentence of up to a decade in prison, but most importantly, consumer protection.
Going in the Right Direction
Wait, prosecutors in Oregon are concerned about purchasers of illicit drugs? As a prosecutor for the Multnomah County District Attorney (MCDA), our office is committed to justice for all persons in our community—especially our most vulnerable. The counterfeit "M" on the fentanyl or "Blues" that have flooded communities across America represents a few main themes: dishonesty, destruction, and death. Purchasers of street-level drugs do not know what they are buying and subsequently consuming. For example, an increase in overdose death cases has involved younger persons in the community with no history of illicit drug use. At face value, a counterfeit "M30" looks to be manufactured under controlled conditions, as innocent as a prescription from your cabinet. Almost invariably, the M30s contain fentanyl and are lethal to the unknowing purchaser or consumer. The driving force for the prosecution of trademark counterfeiting in Oregon is pretty simple; using IP and trademarks, we are calling out the veracity of a tremendously dangerous drug with the hope of holding dealers accountable, protecting unknowing buyers, and most importantly, saving lives.
Filling the Gap
Most local DA's offices lack resources and funding. Trademark counterfeiting allows prosecutors to hold local drug dealers peddling the blue M30s accountable with minimal resources. For practical purposes, adding a trademark counterfeiting felony or misdemeanor is simple. USPTO houses the registrations and provides certified copies. Oregon's statutes require knowledge and an intent to distribute. Given the state of the law concerning distribution charges in Oregon, trademark counterfeiting felonies help fill the gap where the law has changed. Securing a conviction also has implications for future purchase of firearms, expungement possibilities 7 years after conviction, and a crime of dishonesty that appropriately shows an active participation in the increasing amount of overdose deaths seen nationwide.
Proof beyond a reasonable doubt is our standard. Prosecutors face an ever-changing landscape as case law and state statutes evolve. However, by combining different areas of criminal prosecution like IP and drugs, it is possible for prosecutors to stay ahead of the curve and help bring real solutions to problems that touch every corner of our country. By using trademark counterfeiting charging decisions, DA's offices can prosecute dealers and hold them accountable with minimal resources.
State v. Valle:
On March 10, 2023, Multnomah County District Attorney Mike Schmidt announced that a grand jury indicted Ramos Antonio Valle, 31, on 13 charges relating to the possession and distribution of fentanyl, methamphetamine, and heroin, to be prosecuted by Deputy District Attorney Cody Linderholm.
The Crime:
On February 20, 2023, Valle attempted to elude a Portland Police Bureau officer; during the pursuit, Valle threw a gun onto the sidewalk. The officer was able to apprehend Valle, and two other PPB officers who were dispatched to the scene assisted in his arrest. Officers reported finding 3,982 fentanyl pills (426 grams), 193 grams of powdered fentanyl, 51.9 grams of methamphetamine, 6.1 grams of heroin, a scale, packaging/bags, and multiple units of naloxone in Valle's possession. Officers also recovered the gun that Valle threw and identified it as a loaded .38 special.
The Indictment:
Valle was indicted on 13 charges: *Of note the TM count 8 is a class B felony and is the highest level felony on the indictment.
Attempted Delivery of a Controlled Substance (fentanyl)
Attempted Delivery of a Controlled Substance (methamphetamine)
Attempted Delivery of a Controlled Substance (heroin)
Possession of a Controlled Substance Schedule II (fentanyl)
Possession of a Controlled Substance (methamphetamine)
Possession of a Controlled Substance (heroin)
Felon in Possession of a Firearm
Trademark Counterfeiting in the First Degree*
Interfering with a Peace Officer
Escape in the Third Degree
Unlawful Possession of a Firearm
Possession of a Loaded Firearm in Public
Reckless Endangerment of Another Person
THE BRAND PROTECTION PROFESSIONAL | JUNE 2023 | VOLUME 8 NUMBER 2
2023 COPYRIGHT MICHIGAN STATE UNIVERSITY BOARD OF TRUSTEES